Elevate your outdoor cooking game this summer and make memories with loved ones while savoring delicious, perfectly grilled meals. The XO Grill 42 is your ticket to culinary excellence in the great outdoors. Happy grilling! Make the XO Grill 42 the centerpiece of your outdoor cooking adventures, and watch as it transforms ordinary gatherings into unforgettable feasts. Elevate your outdoor cooking game today with the XO Grill 42!
Sleek Design for Stylish Outdoor Living
The first thing you'll notice about the XO Grill 42 is its sleek and modern design. With its stainless steel construction and minimalist aesthetics, this grill is not just a cooking appliance; it's a statement piece for your outdoor space. It effortlessly blends with any patio or backyard decor, adding a touch of elegance to your alfresco dining.
The grill's robust and stable build ensures it can withstand the rigors of outdoor use, including exposure to the elements. So, rest assured, your investment in the XO Grill 42 is a long-lasting one.
Unparalleled Cooking Performance
But let's get down to the real meat of the matter – the cooking performance. The XO Grill 42 boasts three (3) Cast Stainless Steel Burners and (1) Infrared Vari-Temp Burner that combine to provide 88,000 BTUs of power providing even and consistent heat across the cooking surface.
Whether you're searing steaks, grilling vegetables, or slow-roasting a succulent chicken, this grill can handle it all.
With 865 square inches of primary cooking space (and a 360 sq.in. secondary) you have ample room to prepare meals for family gatherings or intimate dinners with friends. The cast iron cooking grates not only ensure perfect grill marks but also retain heat exceptionally well for even cooking.
The Superiority of 304 Stainless Steel
When it comes to the XO Grill 42, one cannot help but marvel at its construction material, which is none other than high-quality 304 stainless steel. This choice of stainless steel is not just a testament to its durability but also a symbol of its commitment to excellence.
304 stainless steel is renowned for its exceptional corrosion resistance, making it the ideal material for outdoor appliances like grills. It's designed to withstand the harshest weather conditions, ensuring your grill remains rust-free and looking as good as new for years to come.
This premium stainless steel not only provides longevity but also contributes to the grill's sleek and modern design. It's easy to clean and maintain, making it a hassle-free addition to your outdoor cooking setup. So, whether you're grilling in the scorching heat of summer or enduring the chill of winter, you can trust that the 304 stainless steel used in the XO Grill 42 will stand the test of time, allowing you to enjoy countless memorable moments around the grill with family and friends.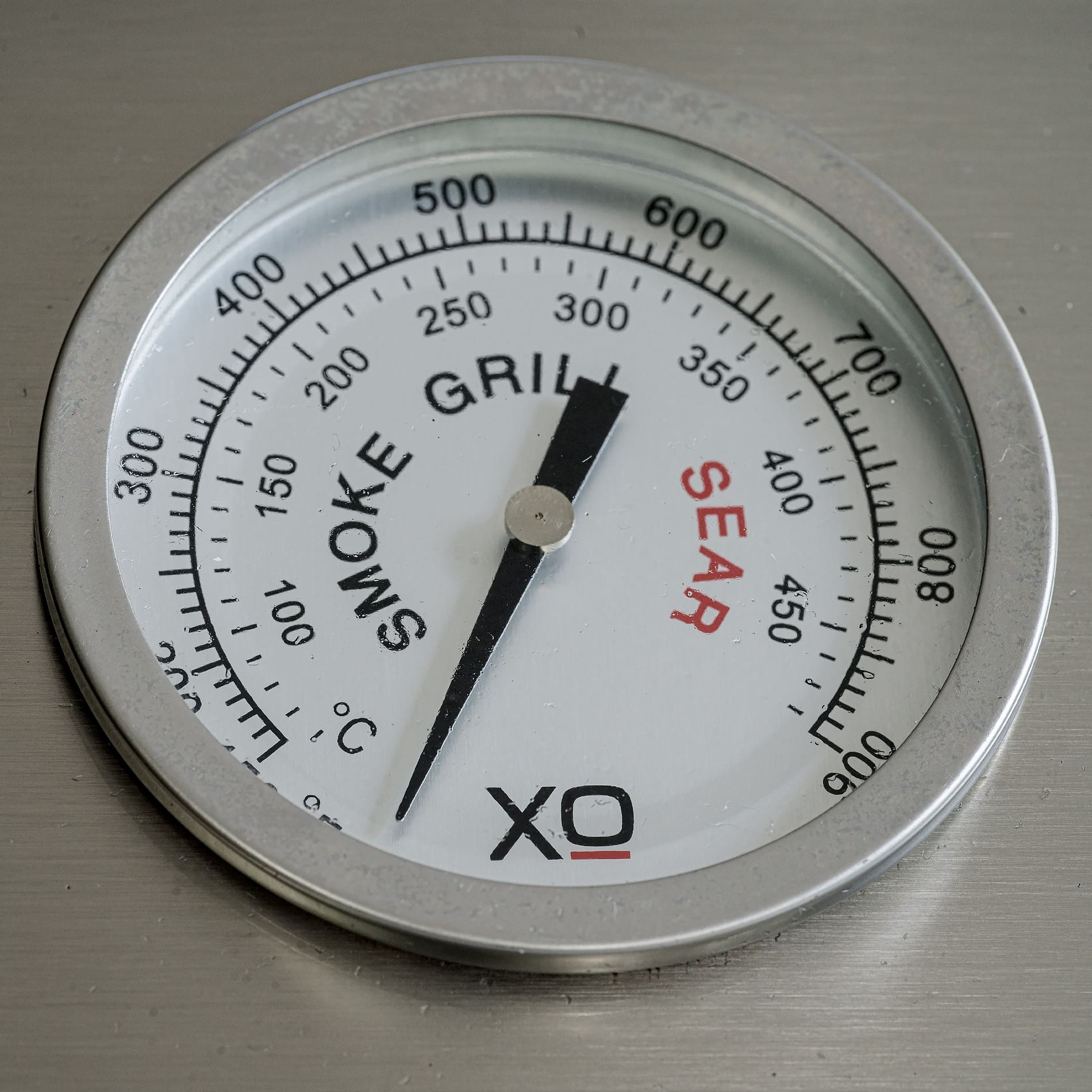 Precision Control at Your Fingertips
One of the standout features of the XO Grill 42 is its precise temperature control. With an easy-to-use control knob, you can adjust the heat to your desired level, allowing for versatile cooking options. From high-temperature searing to low and slow smoking, this grill offers you the flexibility to become a culinary artist in your backyard.
When it comes to outdoor cooking, convenience matters. The XO Grill 42 is equipped with a built-in thermometer, eliminating the guesswork from your grilling. You'll always know when your food is cooked to perfection.
Endless Culinary Possibilities
The XO Grill 42 isn't just for traditional grilling. It also comes with a rotisserie kit, expanding your culinary horizons. Imagine roasting a whole chicken or a succulent leg of lamb to perfection while you relax in your outdoor oasis.
Furthermore, this grill is compatible with various accessories, allowing you to smoke, bake, or even stir-fry your favorite dishes outdoors. It's a versatile cooking powerhouse that enables you to explore a world of flavors right in your backyard.
Conclusion
In summary, the XO Grill 42 is more than just a grill; it's a testament to modern outdoor living. With its stunning design, exceptional cooking performance, precise control, and durability, it's a must-have for anyone who enjoys the art of grilling.